I decided to enter this RTW Contest on PR. Here's my flashy button.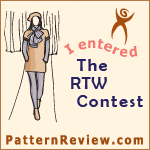 I'm interested in
knocking off
creating a dazzling re-imagining of some fabulous couture as styled in Vogue Korea.
First, this gorgeous Gucci (must end side boob...)
I envision it as a top and skirt though. The silk I want to use is too delicate to support the weight of the skirt, as I think the way I'd end up constructing it would add some heft. A very light charmeuse might not be sturdy enough...
And then there is this combo...
Imagine it with a nice basic corduroy skirt and a floral, or otherwise spring-y patterned jersey. Perfect day wear! I think I even have a jacket pattern in a recent Burda magazine.
And then there's this. Chanel "jacket" (looks backless) and Stella McCartney skirt...
This could be a very cool day combo as well...
What do you think?