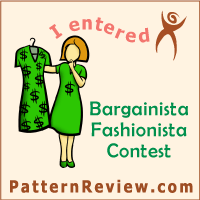 Will I be able to complete 2 projects in 2 contests in a row???? I've never accomplished that before! This contest is always a favorite of mine. But it also one with inherent challenges. It inadvertently encourages basic colors or black and white prints. Often, a designer look has a basic design-- an A-line skirt, a bomber jacket, a sheath dress, the "track pant"-- with a distinctive print or unique color. Right now, I am loving Thakoon. Especially
the Fall collections he's done the last few years. The 2014, especially, has gorgeous,vibrant colors (not just earth tones so common in fall!) and rich textures. I love this jacket and cape.
I have some stashed boucle in similar tones (mine are darker and it has a metallic), and I think I'll use this HotPatterns jacket
I'll update with pics of the boucle when I destash it! I'm also planning a silk twill skirt to go with.